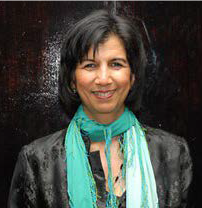 Shireen Narayanan
writer, director, producer, executive producer

Shireen Narayanan is an award-winning filmmaker. She is also a psychotherapist with 30 years of experience in adult/ child and adolescent mental health. In 1997 the damage to her home caused by the construction of an inner-city Tunnel catalysed her mid-career shift to filmmaking. Shireen became an activist, then a filmmaker. THE TUNNEL (2005), a modern -day David and Goliath tale, screened at a number of International Festivals. BRIDGE BETWEEN TWO WORLDS (2009, SBS/ ScreenWest) won a UNAA Media Peace Award and was a finalist at the Aljazeera International Film Festival.
WILD BUTTERFLY is Shireen's first theatrical feature and  foray into writing and directing drama. Her psycho-therapeutic background brings a unique lens to the exploration of the complex emotional dimensions of Claire and her family's universe; as well as the family's heartbreaking and confronting journey amidst the dark shadow of sexual violence, drug dependence and stigma.
Celia is Managing Director of Artemis Media and Artemis International. She read Geography at Cambridge University before completing a Post-graduate diploma in Radio, Film and TV. She moved to WA in 1993 and in 2000 founded Artemis International with Brian Beaton. Following his passing she established Artemis Media.
Artemis Media is a multi award-winning production company telling great stories with passion, integrity and style. It creates documentary and factual content, specialising in thought-provoking, entertaining television for Australia and the international market. Artemis is  renowned for making stories that inspire, delight and inform. Artemis developed and ran successful Social Impact Campaigns around their TV series THE DREAMHOUSE and DON'T STOP THE MUSIC.
WILD BUTTERFLY is Artemis Media's first theatrical feature.
Credits
Producers
Shireen Narayanan
Celia Tait
Director & Writer
Shireen Narayanan
Director of Photography
Michael McDermott
Editor
Lawrie Silvestrin ASE
Production Design
Lawrie Cullen-Tait
Composer
Michael Westlake